Providing invaluable assistance to doctors, dentists and other medical professionals, Radiologic Technologists (RTs) perform imaging exams of patients with complex problems to those with minor complaints for diagnostic purposes. They conduct such radiologic examinations as X-rays, magnetic resonance imaging (MRIs), mammography, and computer-based tomography (CPT) to assist physicians in diagnosing medical conditions. The use of these visual aids is a critical part of clearly understanding the condition and treatment options for patients.
Education & Training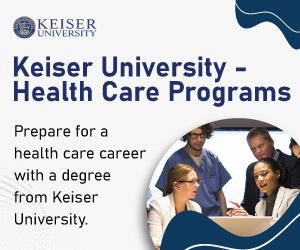 13 Locations in Florida
Daytona Beach
Fort Lauderdale
Jacksonville
Melbourne
View More Schools
The Florida Department of Health requires that those seeking certification as general radiographers complete a two-year accredited Radiologic Technology program. Training programs are available through vocational schools, community colleges, and private colleges. An associate's degree (2-year program) is the most common path for those who wish to enter this field. The Joint Commission on Education in Radiologic Technology (JRCERT) accredits over one thousand x-ray technician programs across the nation. You can visit the site to find a list of accredited schools in Florida.
The cost to complete a two-year program and obtain an associate's degree in Radiologic Technology ranges from approximately $8,750 to $33,000 depending on resident status (in-state or out-of-state) and whether it is a public or private institution.
Education for RTs will include core classes such as basic anatomy, physiology, medical ethics, and medical terminology, and more specific courses such as x-ray technology, image quality, x-ray equipment operation, patient care principles, patient positioning techniques, medical records management, and x-ray safety. Radiologic technology programs also provide students with hands-on training necessary to begin employment. This provides students with the opportunity to train under the supervision of an experienced technician while working with patients and interacting with other medical professionals.
Because the American Registry of Radiologic Technologists (ARRT) administered exams are the exam approved by the Florida Department of Health for licensing, you should look for and enroll in a radiologic technologist program at an accredited institution that will prepare you for this exam. Once you have completed your training, the ARRT and American Society of Radiologic Technologists (ASRT) web sites have information that will help you decide what to study prior to the exam.
Once certified, you must complete 12 hours of continuing medical education every 2 years for re-certification. If you wish to continue your education or even start off by earning a bachelor's degree, you will be able to further advance or even begin your career in a supervisory role.
Career Overview
The term Radiologic Technologist is an umbrella term used to represent a wide variety of technologists in the medical field. RTs may specialize in general radiography or in specific imaging techniques such as magnetic resonance imaging (MRI), mammography, or sonography to name a few. Radiographers represent the entry level position to Radiologic Technology.
It is important for Radiologic Technologist to show a calm, professional and helpful demeanor. One of the most difficult parts of a RTs job is to keep calm and show an unaffected demeanor when they see something that concerns them in the images that they take. This is where maintaining a professional attitude becomes very important. When a patient arrives for imaging, they may be anxious and think or expect the worst. For this reason, strength of character and compassion are also very important and critical characteristics for an RT to possess. Generally working as part of a team, RTs must also have strong interpersonal skills, easily and comfortably communicating with staff as well as patients. Maintaining a professional attitude and addressing the concerns of patients without entering into diagnosis conversations can be a challenge.
Individuals who enter this career field can expect to work in a variety of different environments. RTs are employed in hospitals, doctor's offices, walk-in clinics, imaging centers, nursing homes and dentistry facilities. Some are trained to work in the emergency room or to be a part of the Emergency Medical Technician (EMT) team.
The type of schedule and hours that you work will depend greatly on where you work. If you work in a hospital or emergency room that need to be staffed 24 hours a day you can expect to work a variety of shifts. These shifts can include night shifts, weekends, and holidays. Those who work in a doctor's office or imaging center can expect to work a normal Monday through Friday, 8am to 5pm shift without weekends, evenings or being on call.
The basic duties of an RT include;
Prepare and develop X-ray films (i.e. radiographs) of various areas of the patient's body to assist physicians and other health care practitioners uncover the underlying causes of medical conditions.
Prepare patients for radiologic exams by explaining the procedure and answering questions, removing any items that X-rays won't be able to pass through (e.g. jewelry) and position patients on the table so that the appropriate area o the body is exposed.
Ensure that patients are protected from overexposure to radiation by covering the exposed area of the body with lead shields and limiting the size of the X-ray beam to reduce intensity.
Follow the instructions of the physician exactly and abide by all health and safety regulations with regard to protecting themselves and, their co-workers from overexposure. This includes the use of gloves, masks, special glasses, and protective outerwear.
Position the radiologic equipment to obtain the best angle and height with regard to the exposed area and adjust the controls to the correct intensity, contrast, and visual acuity.
Create and store patient files.
Clean and maintain radiologic equipment.
An RT cannot discuss image results with patients or issue diagnosis. Instead, they will tell the patient when they will be notified about the results by a radiologist or their doctor. If the RT notices a problem that is considered an emergency, they notify a radiologist immediately. Respecting the proper lines of communication are a must in the medical imaging field.
Salary
Below are the median annual salaries for x-ray technicians in select major cities in Florida:
| | |
| --- | --- |
| Tallahassee | $50,478 |
| Fort Lauderdale | $54,046 |
| Miami | $54,180 |
| Orlando | $52,944 |
| Tampa | $53,028 |
Career Outlook
According to the Bureau of Labor Statistics, employment in the field of Radiologic Technology is projected to grow faster than the average for all occupations. Individuals with certifications in more than one diagnostic imaging procedure will have the best employment opportunities.
Although hospitals will remain the main employer of RTs, even more opportunities are anticipated in medical offices, clinics, and diagnostic medical imaging centers. This trend is occurring in part because of the national push to reduce health care costs. Imaging centers, clinics and medical offices provide an outpatient setting for RT procedures, therefore reducing costs. Also, as the diagnostic imaging technology becomes cheaper to produce, these outpatient facilities will become more prevalent.
The field of radiology presents many interesting paths and advancement opportunities. Once you have been in the field for a while you may decide to learn other aspects of the radiology profession and become certified in a specialty. Many medical imaging professionals began as radiologic technologists or medical assistants and then became cross trained or certified to perform additional procedures. Some even worked their way up to radiologist assistant positions. RTs familiar with a variety of imaging techniques will have a distinct advantage when it comes to advancement.
More Information
Radiologic Technologists